Dillion Harper
es de otro planeta y no lo decimos por que nació en Júpiter (pequeño pueblo de Florida de menos de 60.000 habitantes), sino por que en el poco tiempo que lleva en el porno (comenzó en el 2012) ha conseguido auparse a los primeros puestos en las preferencias de los usuarios. Sus armas son su perfecto cuerpo teen, su mirada pícara y lo más importante, las ganas que le pone cuando tiene una buena p*** delante.
Iba para dentista, pero esa mezcla de cuerpo absolutamente perfecto y esa carilla de ardilla de dibujos animados era una maravilla que el porno sencillamente no podía permitirse ignorar. Cuando perdió su trabajo a tiempo parcial como camarera, decidió que tenía que pagarse los estudios y probó suerte enviándole sus fotos a
Bangbros
,
Brazzers
y la revista Score. Esa misma mañana recibió una llamada de una agencia de talentos y en pocas horas ya estaba en un autobús dirección a Fort Lauderdale, en su Florida natal, para firmar el contrato de su primera escena. 24 horas tardó en decidirse, y desde luego el descaro arrollador que ha ido cultivando desde su tímido debut la ha colocado como una de las más refrescantes novedades de la industria en los últimos años.
Tod@s hemos conocido alguna vez a personas que no tienen nada especial por lo que resalten pero con un encanto personal que las hace irresistibles. Dillion Harper es una de esas chicas. Es bajita, de pecho normalito, de piernas cortitas, culo un poco desproporcionado para su altura, pelo corto y casi siempre con marcas de bikini tan características en ella. Ahora bien, su cara angelical y su sonrisa perfecta hacen de esta actriz, estudiante de odontología, una de las actrices más morbosas y atractivas con mayor progresión del mundo actual del porno. Una actriz que a tod@s nosotr@s nos recuerda a alguna chica que conocemos (una amiga, una familiar, una compañera, una ex…).
Una chica natural, espontanea, sonriente y muy morbosa que a partir de ahora seguro que se convertirá en una de vuestras actrices morbosexuales favoritas. Recuerda su nombre: Dillion Harper.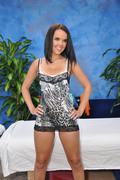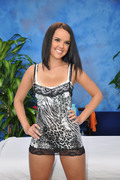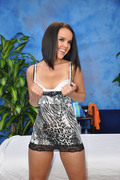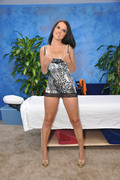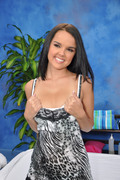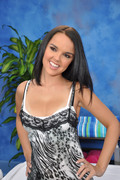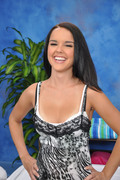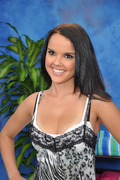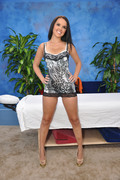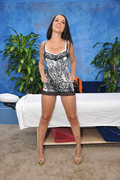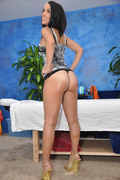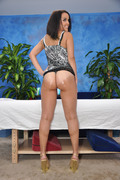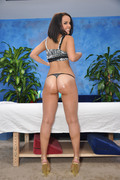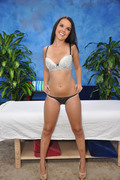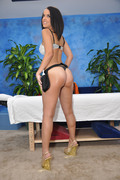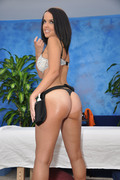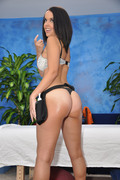 Google Imágenes: DILLION HARPER 2MB (CLEAN)
http://rarbg.to/torrents.php?search=dillion%20harper&category[]=4
http://vintage-erotica-forum.com/t247770-dillon-harper-dillion-harper-usa.html
Adult actress Dillion Harper was born in Florida on September 21, 1991. The shapely brunette studied dental care in college, then got her start in the adult entertainment industry as a nude model for various websites including Hustler, Score, Brazzers and Bang Bros. Her first foray into movies was in 2012, and she has since appeared in numerous X-rated films for such companies as Devil's Film, Diabolic Video and New Sensations.
Readers can learn more about Harper on her website, which will be officially launching soon, or by following her on Twitter.
What were you like growing up?
Growing up I was a daddy's little girl, so I spent a lot of time doing what most little girls aren't used to… instead of dolls and braiding hair, I would always have a fishing pole in my hand and a live shrimp at the end of my hook. Swimming pools, and the smell of grilling hot dogs and hamburgers. I loved being outdoors and I always had a big grin on my face but could be a little stubborn.
For the most part, I was just a girl who wanted to give and make great changes happen to this world simply by loving ones with all my heart.
How did you first break into the adult entertainment industry, and what inspired you to do so?
I was working two hospitality jobs and paying rent and car payments plus going to college to try to better my life, but doing so made me financially fall into debt.
I was told by a wiser older friend of mine about webcamming and I started doing that on the side, which led to a member telling me I should do porn because I would make more money at it. I did my research about some things in the adult industry and I really just felt a gut feeling and something telling me I should do this. I sent pictures to Bang Bros and an agency, AMA Adult Modeling in Fort Lauderdale, Florida.
AMA contacted me, and after speaking with a former porn star about so much more than you'll ever know, I just had a feeling so I packed a duffle bag and headed to the nearest Greyhound bus from northern Florida to go to south Florida to shoot porn. I wanted a better life and more than what I was getting. I always believed that I was born with an entertainer within me. :)
What was your first on-camera experience like? Was there any awkwardness or self-consciousness?
My first on-camera experience was pretty nerve-wrecking and all I wanted was to do my best and try to look my best while I was doing it all. I didn't realize how much I did not know and I did not know that everything was taken so professionally and very sanitarily on-set. I felt really awkward standing there naked in front of strangers and I felt like they were just looking at everything that is normally clothed, but then I forgot I was there to act and show my goods and once I let all my worries down the drain, I realized that I had nothing to really worry about. I started to become comfortable in my skin.
What do you like most about what you do?
I love just being able to walk around nude in places. I mean, I always liked walking around nude in my house but I never thought that I would be out in the Mohave Desert nude or out in the National Forest, LOL.
Which co-stars have you had the best time working with? Is there anyone that you had a particularly strong connection with?
My co-stars that I have worked with who I truly had some passionate times spent with would be Brandi Love, India Summers, Tanya Tate, Shyla Jennings, Natalia Starr, Jesse Jones, Danny Mountain, James Deen. I love working with new people and getting to know someone, especially sexually!
Who are your role models, either in the industry or elsewhere?
I really look up to woman in the industry who have made successful careers out of this risky but amazing industry and I must say that I love the way the women hold themselves. I really look up to Kendra Lust, Brandi Love, India Summers, Tanya Tate, and all the woman who have dedicated not only their bodies but their love for the career and fans. Thank you to all you beautiful women!
What do you do for fun when you have a day off?
I love going to the beach or the Santa Monica Pier. I'm still very outdoorsy, because when I'm stuck inside to shoot I like to take the free time to step outside to feel that sun on me. Shopping is a must-do, but now that's became more work since becoming a model LOL. I like to go out to the clubs, not to really drink but to let loose and dance.
What are you working on next?
I will be launching my website soon —
therealdillionharper.com
. I'll be camming for Nookiechat.com and Freewebcams.com, and if you'd like to personally Skype chat with me, visit
adultverifiedvideochat.com/@dillionharper
.
http://morbosexuales.com/dillion-harper/
http://tenminuteinterviews.com/en/dillion-harper/
https://twitter.com/dillionharper
http://www.iafd.com/person.rme/perfid=dillionharper/gender=f/dillion-harper.htm
http://www.orgasmatrix.com/pornostar/dillion-harper/
http://www.serviporno.com/pornstar/dillion-harper/
http://dillion-harperr.tumblr.com/
http://www.clubdillionharper.com/
http://www.imagebam.com/gallery/1hsqyaj8denqr2yx0n73tzhrnzg8nbhp/
http://www.imagebam.com/gallery/20qjmeckkschij563knr4212odv3f78i/
http://www.imagebam.com/gallery/h1cmbub5iwpq0jfqk2forsoya8z5fc3x/
http://www.imagebam.com/gallery/sll4rtaja776i2ejy9mvpb4625w44pdx/
http://www.imagebam.com/gallery/yim8kos069vrxb63resafvr7jx2eni4l/
https://vimeo.com/129022448
https://www.youtube.com/results?filters=hd&lclk=hd&search_query=dillion+harper